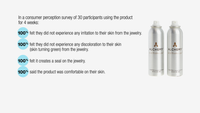 Is This Legit?
Yes. We got it tested. And everyone loved Alchemy. That's why you can find it in over 400 retail stores, including The Grommet, Hallmark, Amazon, and the Home Shopping Network. 
Made By Women, For Women.
Alchemy is the brain child of inventor and entrepreneur, Ashley Morrow.
Ashley had always dreamed of being able to wear fabulous jewelry. Unfortunately, like many women, she could never wear what she wanted because most jewelry would make her skin itch and turn green.
In 2014, Ashley invented Alchemy... a water-based sealer that protected her skin and allowed her to wear whatever she wanted.
While testing her formula, she discovered something else... Alchemy not only prevented skin irritation, but it also kept her jewelry from getting tarnished!
What makes Alchemy truly special is that this unique formula has no scent, and leaves no visible residue on your jewelry.
Today, Alchemy is sold in over 400 retail stores nationwide - and growing.
Join the jewelry revolution today... with Alchemy!
Release The Real You... Buy Alchemy Today!